ABOUT US
NOVAR Sp. z o.o.is a company that operates all over the world. We are specialized in the manufacturing of steel constructions for industry and power stations as well as environment protection plants and civil buildings.
This business was founded march 1988. Thanks to our past projects we have built up a technical and professional potential, established procedures as well as a quality management system. All these factors qualify us for the production of complex facilities, which function failure-free all over the world. We have earned our business partners' trust on the basis of the fulfillment of contracts on schedule, services of high quality and attractive offers. Over 90 % of the products were sent abroad.
Our business is a founding member of the employer's federation of the construction industry in Gliwice, Poland.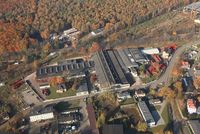 HOW TO FIND US
The location of the company NOVAR Sp. z.o.o. is located on the area of a former steel construction manufacturing company. It is between the two cities Gliwice and Zabrze. The vicinity to the newly built freeway interchange with a connection to the freeways A4 and A1 shows the benefit and attractiveness of our location.
REPORTS ABOUT US
MEMBERSHIP IN FOLLOWING ASSOCIATIONS
The company NOVAR is a member of many organizations and associations, as the following:

COLLABORATION WITH OTHER ASSOCIATIONS